May witnessed a significant surge in the electric vehicle market and especially in the electric two-wheeler segment as leading manufacturers unveiled their latest offerings in India. With an increasing focus on sustainable transportation and the government's push for electric mobility, the launches showcased cutting-edge technology, enhanced performance, and a diverse range of options. From stylish scooters to high-speed bikes, the electric two-wheelers launched in May have set new benchmarks in terms of range, battery capacity, and features. Let's delve into the exciting lineup of electric two-wheelers that made their mark in India last month, bringing us closer to a greener and more sustainable future of transportation.
Crink V1
Crink V1 by Enigma Automobiles Private Limited was recently launched in India. The Crink V1 is available in 72V variants and offers a nostalgic charm combined with modern-day technical prowess. Enigma has plans underway to introduce new iterations of the Crink V1, strategically timed to captivate the market in the near future.
GT450 Pro
Enigma Automobiles Private Limited launched another electric scooter 'GT450 Pro.' in India. The GT 450 Pro showcases the embodiment of the futuristic design. The GT450 Pro is the sole addition to the GT450 series. It comes with a 10 Amp Charger.
Both Crink V1 and GT450 variants come in colors like Grey, Gold, White, Silver, Blue, and Matte Black. Also, both scooters are powered by a 72V electric motor and come with a warranty of 3 years or 30,000 km, whichever is earlier.
Simple One
Simple Energy launches its first electric scooter 'Simple ONE' in India with a starting price is Rs 1.45 lakh to Rs 1.58 lakh (ex-showroom, Bengaluru). The Simple ONE has a range of up to 212 km on a single charge. It has a battery capacity of 5kWh, a top speed of 105 kmph, and a 0-40 kmph acceleration time of 2.77 seconds.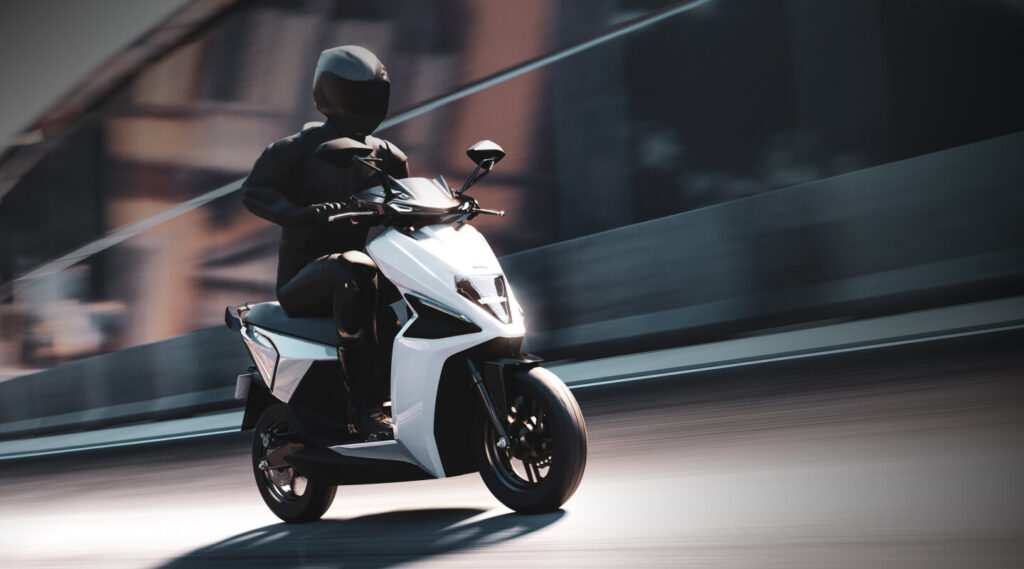 Amery
e-Sprinto, India's fastest-growing electric two-wheeler brand unveiled its electric two-wheeler Amery, the second high-speed electric scooter to join the brand's illustrious lineup. The model with its an impressive range of 140 kilometers on a single charge and segment-best features including a Remote Control Lock, Anti-theft alarm, Mobile charging socket, Find my vehicle, and more.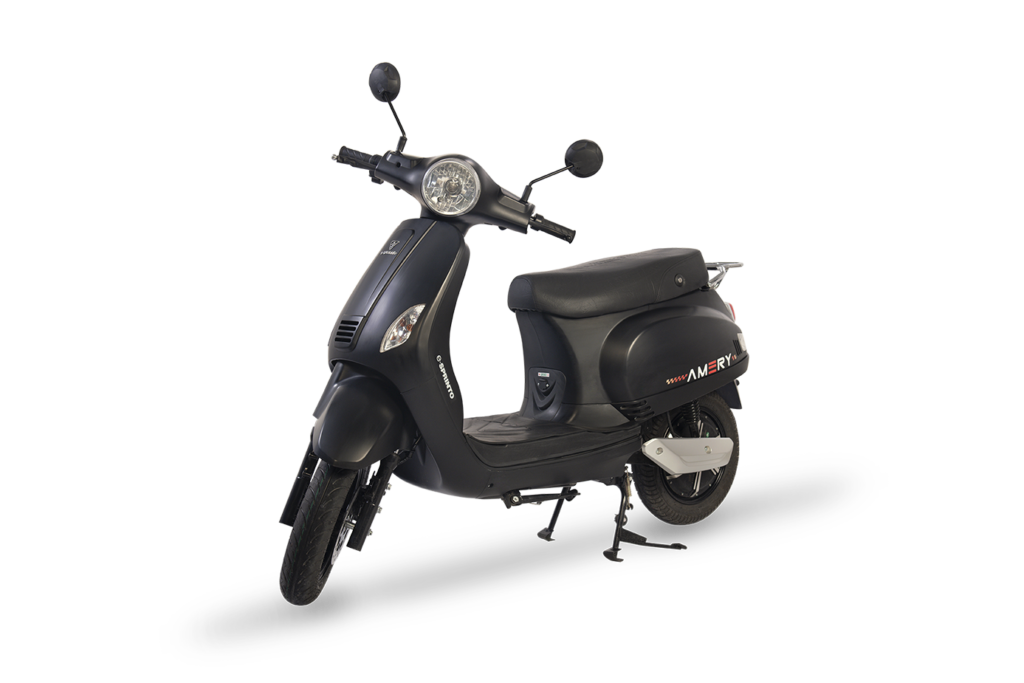 ePluto 7G Pro
PURE EV, a two-wheeler electric manufacturer has introduced a brand new ePluto 7G Pro electric scooter in India for a price starting at Rs 94,999 (ex-showroom). The new PURE EV 7G features a retro-style design. The round LED headlamp is paired with a circular DRL. This electric scooter will be available in three different color options. The three colors are Matte Black, Grey, and white.
Zen Micro Pod
Zen Mobility, an emerging Indian Electric Vehicle OEM, recently introduced the Zen Micro Pod, a purpose-built cargo 3-wheeler LEV (Light Electric Vehicle), as part of its goal to create inspirational designs and engineering innovations in electric vehicles. The Zen Micro Pod will be available in two variants – the R5x and R10x. With a maximum payload of 150 kilograms, the Zen Micro Pod surpasses conventional 2-wheelers' load-carrying capacity by 2.5 times.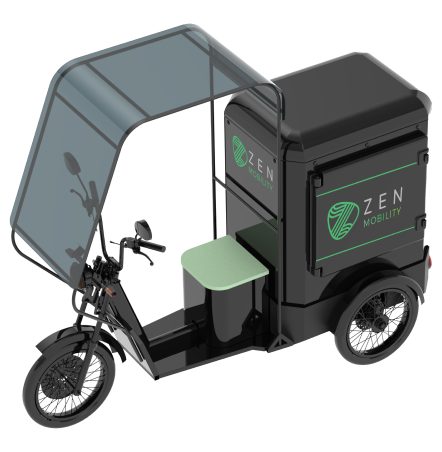 RunR HS EV
RunR Mobility, a leading innovator in electric vehicle technology, launched RunR HS EV model. The RunR HS EV is available in 5 vibrant colors, allowing customers to personalize their scooters and make a statement while embracing green mobility. Equipped with 60 V 40 AH Li-on liquid-cooled wire bounded batteries, the scooter utilizes a state-of-the-artcan-based Battery Management System (BMS).
TN 95 Sport
Komaki, one of the most trusted electric vehicle manufacturers in the country, has rejigged its popular electric scooter – Komaki TN 95, the largest scooter in the country. The 2023 model of the Komaki TN 95 is equipped with anti-skid technology and is available with LiFePO4 app-based smart batteries. The advanced batteries of the new TN 95 electric scooters are fire-resistant and take only 4 to 5 hours to get fully charged.
KM5000
Kabira Mobility unveils the KM5000 – the newest flagship electric bike model in its lineup. The KM5000 boasts the title of India's fastest and longest-riding electric bike, designed with bike enthusiasts, adventurers, and thrill-seekers in mind. Packed with innovative features and industry-leading specifications, the KM5000 aims to redefine the global electric two-wheeler market.
Bzinesslite
Log9 Materials, a Bengaluru-based company signs an agreement with Quantum Energy, a Hyderabad-based company, and unveils the fastest charging commercial electric two-wheelers of India 'Bzinesslite InstaCharged by Log9'. The vehicle is powered with RapidX 2000 batteries of Log9 and will help in charging the vehicle in 12 minutes.
Comparison Between Different Electric Two-Wheelers Launched In May 2023
| | | | | | |
| --- | --- | --- | --- | --- | --- |
| Product | Price Range (INR) | Range | Battery Capacity (kWh) | Top Speed (kmph) | Charging Time |
| Crink V1 | 94,000 | 140 | 36 AH at 72V | 70 | 3.5 Hours |
| GT450 Pro | 89,000 | 120 | 40 AH LPF | 60 | 3.5 Hours |
| Simple One | 1.45 lakh to 1.58 lakh | 212 | 5 kWh | 105 | 5-6 |
| Amery | 1,29,999 | 140 | | 65 | 4 |
| ePluto 7G Pro | 94,999 | 100-150 | 3 kWh | 60 | |
| KM5000 | 3,15,000 | 344 | | 188 | |
| RunR HS EV | 1.25 lakh – 1.30 lakh | 110 | 60 V 40 AH | 70 | |
| TN 95 Sport | 1,31,035 | 130 to 150 | | | 4-5 |
Conclusion
May witnessed an exciting array of electric two-wheeler launches in India, showcasing the rapid growth and innovation in the market. Enigma Automobiles introduced the Crink V1, a stylish and modern electric scooter, while Simple Energy launched the Simple ONE with an impressive range of 212 km. RunR Mobility presented the RunR HS EV, and Kabira Mobility unveiled the KM5000, India's fastest and longest-riding electric bike.
Other notable launches include the GT450 Pro by Enigma Automobiles, Amery by e-Sprinto, ePluto 7G Pro by PURE EV, Zen Micro Pod by Zen Mobility, TN 95 Sport by Komaki, and Bzinesslite InstaCharged by Log9. Each electric two-wheeler brings its own unique features, battery capacities, and price ranges to cater to a diverse range of preferences and requirements.
With the growing availability of electric two-wheelers in India, consumers now have a wide selection of eco-friendly and technologically advanced options to choose from. These new launches represent a significant step towards a greener and more sustainable future of mobility in the country.
Whether you prioritize range, speed, design, or charging capabilities, the electric two-wheelers launched in May provide ample choices to suit various needs. As the electric vehicle industry continues to evolve, these launches showcase the ongoing commitment of manufacturers to deliver innovative, efficient, and reliable electric two-wheelers in the Indian market.
Pooja Chandak is an avid reader and an experienced content writer. Apart from blogs, she writes quotes and poems. She started writing when she was in school. Pooja currently works as a Content Development Executive for a Mumbai-based company.