Women's cricket has been gaining momentum in India after the 2017 World Cup. Since then, India has seen various series like the Women's T20 Challenge and now the Women's Premier League (WPL). It is a twenty-twenty cricket franchise league owned and managed by the Board of Control for Cricket in India (BCCI).
We talk about IPL vs WPL or men's game vs women's game. But there is no fairground to compare the games. Men play more games and leagues and get more brand collaborations and fees. Yes, cricket was so-called "Gentlemen's game" but it isn't anymore. It is an inclusive sport and women too play really good cricket. Women's cricket has been ignored for years now and it is high time to support the women's game and players.
Recap of WPL 2023
The tournament was organized between 4th March – 26th March 2023. It had five teams that are: Mumbai Indians, Delhi Capitals, Gujarat Giants, Royal Challengers Bangalore, and, UP Warriorz.
A total of 87 players were sold during the WPL auction, 30 of whom were overseas players. Smriti Mandhana was the most expensive pick at INR 3.4 crore while Ashleigh Gardner was the biggest overseas buy at INR 3.2 crore. Only 1 player was from the Associates – Tara Norris of the USA.
The matches were played at the Brabourne Stadium in Mumbai and DY Patil Stadium in Navi Mumbai. The BCCI set a nominal price for tickets for males at Rs.100 and entry was free for females.
BCCi decided to chop down the boundary length and it was 60 metres. It was 5 metres shorter than the Women's T20 World Cup in South Africa. Shorter boundaries mean high-scoring games and more excitement.
On 4th March, the opening ceremony took place at DY Patil Stadium with performances from AP Dhillon, Kriti Sanon, and Kiara Advani.
The final match was played between Delhi Capitals and Mumbai Indians and the league was won by Mumbai Indians. The prize money for the season was Rs. 10 crore.
Few awards of WPL
Safari Powerful Striker of the Season: Sophie Devine (Royal Challengers Bangalore)
WPL Emerging Player of the Season: Yastika Bhatia (Mumbai Indians)
WPL Fairplay Award: Mumbai Indians & Delhi Capitals
WPL Catch of the Season: Harmanpreet Kaur (Mumbai Indians)
WPL Purple Cap Winner: Hayley Matthews (Mumbai Indians)
WPL Orange Cap Winner: Meg Lanning (Delhi Capitals)
WPL Most Valuable Award: Hayley Matthews (Mumbai Indians)
Overall, it was a successful season for the WPL. Read more on the impact of the WPL on Indian women's cricket and how it changed the dynamics of the game.
"I think we are heading in the right direction. The big change that I had wanted to happen — equal opportunities — has already begun with the WPL, that too in grand style. I told them that it's brilliant that the WPL is being introduced. It's going to take women's cricket to a different level by opening the doors for so many young girls. Their athleticism was a pleasant sight to watch. I was really pleasantly surprised with the way they fielded and threw themselves on the field. I didn't expect this level and full marks from them. Somewhere you need leaders to emulate, and younger generations can watch all these women compete in a fair manner, but at a very high level. This change I am seeing — equality — should happen not only in cricket but also in our country and beyond, plus in all professions and walks of life. Equality has multiple layers, in opportunity and freedom to express yourself on various platforms. Being gender neutral is something that will give everyone a reason to smile."

Sachin Tendulkar on WPL
Uncapped Players Who Caught The Eye
Saika Ishaque: She was a consistent player for the Mumbai Indians. She had a memorable event, having taken 15 scalps with an average of 16.26, and with an economy rate of 7. Saika's best 4/11 figures came against Gujarat Giants, the tournament opener. Over the next few matches, she continued to take wickets but could not close the tournament with a bang as she went wicketless for four matches. Saika's skill was evident and she is sure to make her India debut sooner rather than later.
Kanika Ahuja: She plays domestically for Punjab, but in the WPL she was seen playing for Royal Challengers Bangalore. Kanika scored 46 runs in her highest score, 74 off six innings. She averaged 16.33 and had a strike rate of 132.43. Kanika's fearless cricket was on display when she played against the UP Warriorz. She scored a fine 46 in 30 balls and helped RCB to get their first victory of the season. She is still a youngster but she has already shown some of her potential.
Shreyanka Patil: The 20-year-old plays for Karnataka, and was given the chance to play for Royal Challengers Bangalore. In 6 innings, she scored 62 runs with a strike rate of 151.21. She also had a good first season with the ball. Shreyanka began her batting career with a good 23 against Mumbai but was unable to continue as she only made two starts (11* & 15). She was given hard overs to play and she still managed to take 5 wickets with an economy rate of 9.84.
Parshavi Chopra: She's only 16, but her skills are beyond her years. Parshavi came to the WPL after an impressive Under-19 World Cup performance, where she took 11 wickets in six games with an economy rate of 3.66. She played four games in the WPL for the UP Warriorz, and she didn't miss the chance to make her mark. She made headlines with a 2/29 (4 against Gujarat Giants) and an economical outing against Delhi Capitals.
Jintimani Kalita: A 19-year-old from Assam played for Mumbai Indians in an all-star line-up and made a name for herself. Jintimani, who only faced a handful of deliveries and bowled five overs, was a relatively inactive player at the franchise that won the title. However, she managed to bag her first WPL wicket, and she also made a name for herself with a flying grab against Gujarat Giants.
Viewership
JioCinema in a press release told that the final of WPL's inaugural season between Mumbai Indians, eventual champions, and Delhi Capitals attracted more than 10 million viewers. The company also said that WPL's first season on the OTT platform had the highest global viewership of any women's event.
JioCinema, with its rich content library and exciting live action on the WPL, logged more than 50 minutes per user for each match. The league was able to surpass its initial projections and expectations thanks to the 4K streaming and multi-cam setup.
Anil Jayaraj, CEO of Viacom18 Sports said, "Our vision is for the WPL to become the largest women's sports league in the entire world. This is a huge step in that direction. said that it is remarkable to see the WPL on its way to becoming the most-watched sports event in the entire world after only one season. We'd like to thank our 50+ advertisers who shared this vision with us, and viewers who encouraged us to deliver a world-class viewing experience."
The T20 World Cup 2023 Statistics were:
| ICC Women's T20 World Cup 2023 | Figures |
| --- | --- |
| Global viewing hours | 192 million (44% increase from 2020) |
| Host nation live coverage increase | 130% |
| Overall viewership increase | 790% |
| India total live viewing hours increase | 57% |
| UK total live viewing hours increase | 26% |
| ICC digital channels uplift in video views | 26% |
| ICC digital channels video views | 1.39 billion (compared to 1.1 billion in 2020) |
| ICC website and app unique users | 12.5 million (20% higher than Women's Cricket World Cup 2022) |
What have WBBL done for Australia and The Hundred for England
Whether it's Alice Capsey of Oval Invincibles, who got an opportunity to develop under pressure and smashed a fifty at Lord's at the age of 16, or Southern Brave bowler Lauren Bell, the young talent has been performing well in the Hundred. Cricket has boomed in Australia as well as England and women cricketers are now getting more attention from people and brands plus they are getting paid better than before. People now know about women cricketers and about upcoming leagues.
"A big thing is looking around and seeing young girls thinking cricket is really cool now. This competition has done that instantly when I probably didn't think it was going to be quite as instant. I have had the best seat in the house to watch the cricket, see the fans and experience the players' reactions. They have loved this experience of playing in front of big crowds and the fans we have created."

CHARLOTTE EDWARDS on The Hundred
Domestic leagues offer various benefits for young talent as well as gives more play time to other players. Also, live games are telecasted and people do pay and watched the matches.
Some benefits of domestic leagues:
Increased visibility: Domestic leagues like WBBL increases the visibility of women cricketers. The leagues are broadcasted live on television as well as online and give fans greater access to the games and players. Also, the audience gets to see players playing live on the ground.
Development of young talent: Young talents get a platform to showcase their talents with some of the best players in the world. This helps young talents to skill up their game and learn more. The cricket board gets new players for international leagues.
Increment in salary: As a player plays more cricket, they get paid accordingly. The more games they play, the better their fees are. Plus, they also get paid for the league.
Brand collaboration: Playing in domestic leagues means more visibility and upskilling your game. When a player is playing a quality game, brands see them and therefore offer good brand collaboration deals and sponsorship too.
Inspiration for young players: In India, girls are not always supported to have a career in sports. Domestic cricket leagues can serve as a source of inspiration for young players, particularly girls, who may be inspired to take up the sport and pursue a career in cricket. This will also help grow the talent pool for women's cricket.
What next?
BCCI is planning to conduct the next edition of WPL somewhere between September to November. But there has been no final decision taken yet. In the future, we can see more teams and hence more players. We could see home games of WPL teams. The prices of WPL tickets are to be raised and live telecast of matches in different languages. We can see more audiences coming up to watch the game and bringing more money into the game. Also, brands investing their money in sponsorship can be seen. With exposure to high-quality cricket, we can see tough competition, more players coming in, and a good level of the game from the girls. We will see new talents coming out from our country and playing internationally.
Media has recognized the game and we can see more visibility from the media and more talk about cricket. Also, the number of domestic leagues as well as international series will hopefully be increased by the BCCI. Women's cricket is already played in various countries, but there is potential for further international expansion. Moreover, the sport could potentially be introduced to new countries and regions, providing more opportunities for players and helping to grow the game around the world.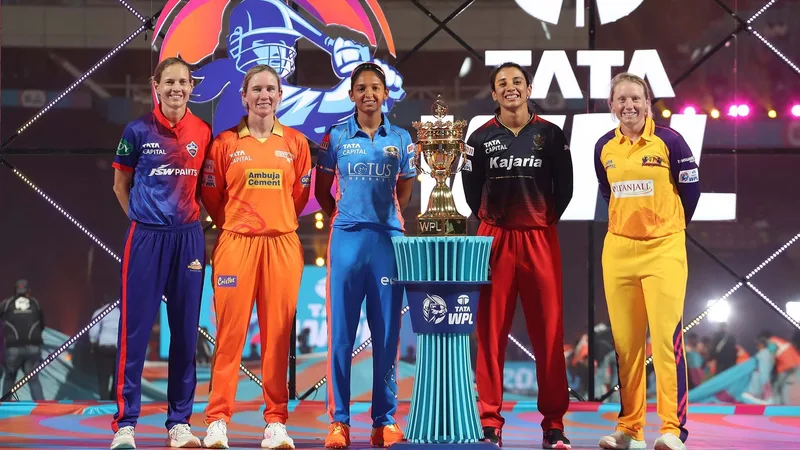 "The cricket was at a really high standard. The crowds were unbelievable. I knew they were going to be big crowds, but I do not think I really appreciated the reach that it was going to have, that the tournament was going to have. Cricket in India just breaks through popular culture. It was a really great competition to be involved in, and a very different experience to any I have ever experienced before. Just the intensity of the tournament and the off-field commitments in terms of shooting adverts and doing things like that was just like nothing I have ever experienced. You can see how it is certainly going to get much bigger in the coming years and I think the expansion of it will happen quite quickly because of the success that it has already had."

England skipper, Heather Knight
Conclusion
In conclusion, women's cricket in India has been gaining momentum since the 2017 World Cup, and this has led to various series like the Women's T20 Challenge and the Women's Premier League (WPL). The WPL is a twenty-twenty cricket franchise league owned and managed by the Board of Control for Cricket in India (BCCI). Uncapped players who caught the eye include Saika Ishaque, Kanika Ahuja, Shreyanka Patil, Parshavi Chopra, and Jintimani Kalita. The final match between Mumbai Indians and Delhi Capitals attracted more than 10 million viewers, and the WPL had the highest global viewership of any women's event. As last, the goal is for the WPL to become the largest women's sports league in the world, and it seems to be on the right track. For the past few years, everyone was waiting for women's IPL and we finally have one!
Pooja Chandak is an avid reader and an experienced content writer. Apart from blogs, she writes quotes and poems. She started writing when she was in school. Pooja currently works as a Content Development Executive for a Mumbai-based company.