"Electric cars are not going to take the market by storm, but it's going to be a gradual improvement."
This statement by "Carlos Ghosn" is going to be proven right as the automobile market is undergoing a drastic change by investing in the electric mobile shift or we can say electric vehicle industry.
Not a single one but there are many reasons why the automobile market is adapting electric vehicle trends in 2021? Some of them include rising pollution, oil imports, international commitments to oppose climate change, etc. These are the prime reasons why the automobile market in India is speeding up the conversion to e-mobility?
By turning towards the electric vehicles (EVs) industry, the Indian automotive industry is availing various benefits comprising a related abundance of renewable energy assets and obtainability of expert manpower in the manufacturing and automated technology sectors.
What Is Electric Vehicle Charging?
Smart electric vehicle (EV) charging refers to an approach in which a charging device and an electric vehicle share a data connection, and that charging device also shares a data connection with the charging operator. It allows the owner of an electric vehicle charging station to observe, handle, and restrict the utilization of the devices remotely for energy consumption optimization.
How The Electric Vehicle Industry Is Evolving In India?
There is always a question mark on the survival of electrical vehicles in India. Various industry experts have also raised the query- will the electric vehicle concept succeed in India?
By answering all these questions, the Indian automotive industry has taken its first step towards an autonomous future.
The Indian automotive market had approached MG Motor's Gloster last year and it was the first autonomous premium SUV (Level 1) in the country with an ADAS (advanced driver assistance system).
These autonomous vehicles are built with logistics 4.0 and Artificial Intelligence technologies to offer people a secure auto-driving experience.
In India, the growth and future of autonomous and electric vehicles are bright due to faster transport and a boost in the much-required greenhouse gas emissions depletions in the transport segment. India is highly dependent on oil imports and pollution is always a challenge for the country, both issues can be solved with one-way solutions of autonomous vehicles & EVs.
Electric Vehicle Industry: FAQs
1. How is the EV market going to be in the country till 2026?
The EV market in India has acquired enough popularity after the execution of the FAME (Faster Adoption and Manufacturing of (Hybrid &) Electric Vehicles) India scheme. Below are some points to describe the EV market's growth till 2026 in India-
In 2018, the overall EV sales reached 365,920 units and now it is forecasted to evolve at 36% CAGR by 2026.
The EV battery market is predicted to hit USD 520 million in 2018 and expected to evolve at a 30% CAGR by 2026.
In 2018, the total MWh (MegaWatt hour) addition was estimated to 4.75 GWh (GigaWatt hours) and predicted to grow at 28.0 GWh by 2026.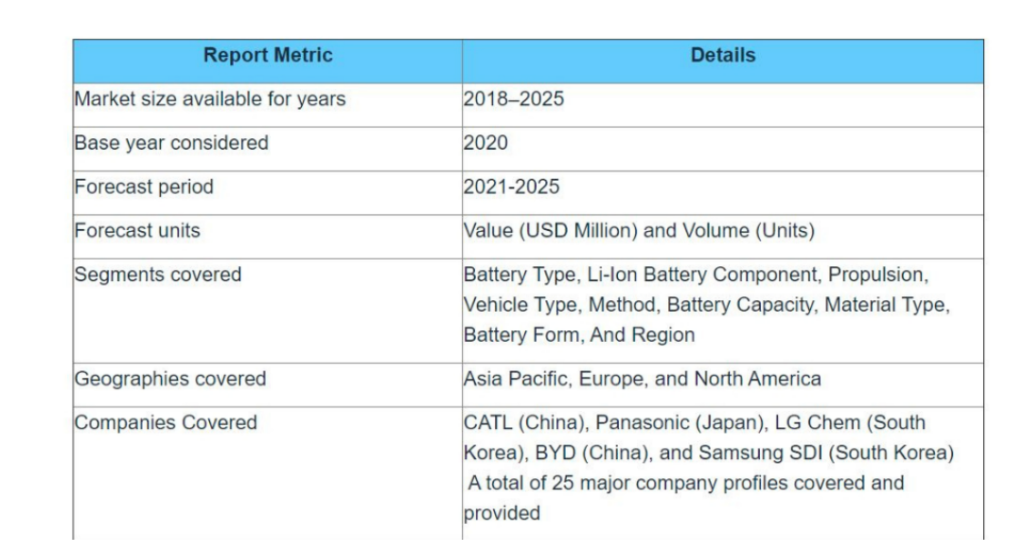 2. Which EV segment is expected to have the highest growth and why?
The commercial vehicle segment is likely to grow with the highest growth among all the segments due to the fast adoption of electric buses specifically in India. Many other nations are also looking to replace the existing fuel buses with electric buses. As per the future perspective, the evolvement of logistics, e-commerce, and distributed mobility will accelerate the electric commercial vehicle's growth during its forecast period.
3. How is the EV battery demand expected to grow in the country in the next 5 years?
Growing demand for different types of electric vehicles, supporting government regulations & policies, new plug-in EV model launches, and betterment in battery technology are some of the top reasons that drive the market for EV batteries. 
Because of these all, the EV battery market is projected to evolve at a 1% CAGR during its prediction period in 2019, the market value of Lithium-ion batteries was USD 1.89 billion and it is estimated to hit USD 4.84 billion by 2026.   
4. Which States in the country have the most supportive EV policy?
To reduce air pollution in India and fight it consistently, many states are adopting EV approaches. These states include-
Uttar Pradesh
Uttarakhand
Maharashtra
New Delhi
Andhra Pradesh
Kerala
Gujarat
Karnataka
Madhya Pradesh
5. How is the EV market supported by public charging infrastructure during the next 5 years?
If the country is adapting EV policy, then appropriate and accessible EV charging infrastructure is a must-have thing and the government is also supporting this initiative by conducting the FAME II (Faster Adoption and Manufacturing of (Hybrid &) Electric Vehicles in India) scheme but currently, it is only at the central level.
For future purposes, the Indian government has provided INR 1,000 crore (USD 135 million) under the FAME II policy for charging infrastructure.
These electric vehicle charging stations will be set up in different phases that will focus on different areas and places.
6. What are the various business models for public charging stations in the country?
Let's have a look at these different business models of EV public charging stations in India to save the electric mobility future-
Regional fast-charging networks for major public and private enterprises like hotel groups, retail chains, etc.
Small & Local business initiatives for better business opportunities and maximizing revenue.
Commercial EV charging is a strategic approach for larger business chains.
E-Fleets and enterprises to accomplish sustainability targets and employee demands.
Municipalities and sustainable e-mobility to cut costs and be an adequate source of income.


Conclusion
In India, the scope of EV market growth largely depends upon the improvement of EV charging infrastructure and varied options for consumers along with capital availability for battery manufacturers, original equipment manufacturers, and charge point operators. E-mobility in India is not something to provide luxury but it is an essentiality for survival via reducing the pollution level. So, we have to adopt an integrated policy for the e-mobility future with a focus on 0% emission. If you want to develop a mobile app for an Electric Vehicle then you should hire the best mobile app development company which has expert mobile app developers and can take your EV business to the next level.
Pooja Chandak is an avid reader and an experienced content writer. Apart from blogs, she writes quotes and poems. She started writing when she was in school. Pooja currently works as a Content Development Executive for a Mumbai-based company.